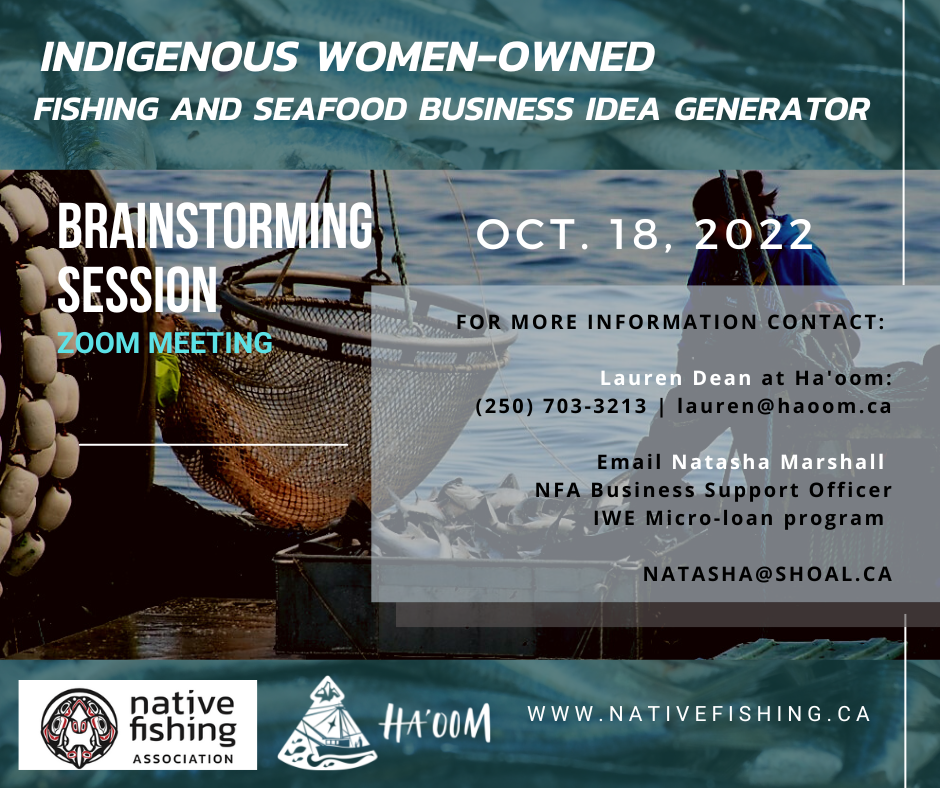 Are you a woman that is looking to start or grow a fishing or seafood business? The Native Fishing Association and Ha'oom Fisheries Society are working together to help lift up women in our communities with business development opportunities through grants, loans, and mentorship programs, such as the Indigenous Women Entrepreneur Program. 
Natasha Marshall Gallic is a registered Tseshaht member, a fisherwoman, a mother of fisherwomen, and a business support officer at the Native Fishing Association. She is passionate about First Nations community fisheries and helping fishers grow their businesses. Natasha has a Business Administration degree and is currently completing her Master of Business Administration degree. 
Lauren Dean is the communications specialist at Ha'oom Fisheries Society. She has over a decade of experience in digital marketing and has had her own marketing and communications consulting business for over six years. Lauren is a citizen of the Métis Nation of BC and has worked exclusively with Indigenous organizations and businesses for the past five years. She is currently completing her Master of Arts in Professional Communication. 
Part One – Brainstorming: October 18th, 6-8pm on Zoom
On Tuesday, October 18th, join Natasha Gallic from the Native Fishing Association and Lauren Dean from Ha'oom Fisheries Society to discuss and brainstorm business ideas that you have or that you might already be doing. Facebook event link here.
This is specifically for women who are interested in starting or growing a fishing and/or seafood business.
What are some ideas?
– Mobile processing
– Manufacturing fishing gear
– A seafood food truck
– Creating gift baskets of local seafood
– Seafood air freight services
– Seafood cold storage
– Marketing daily catches to locals
– Gear mending
– Bookkeeping for fishers
so many more!
If you are not sure if your idea is a real business idea, or if what you're doing already counts as a business, please come! We will talk about it and see if you are able to potentially qualify for the Indigenous Women Entrepreneur Program. 
October 18th, 6-8pm
To join the meeting via Zoom, please click on the link below:
https://us02web.zoom.us/j/6286488586?pwd=OHc0eGFrditjd0IzRTllL0RIOVRjQT09
 
Meeting ID: 628 648 8586
Passcode: 1234
Call-In
+1 (587) 328-1099
Meeting ID: 628 648 8586
Passcode: 1234
————————————–
Part Two – Mentorship, Grants, Loans, and More: November 2nd, 6-8pm on Zoom
More information is to be announced. Save the Date!