Suuhaa Directed Fishery
Updated June 30, 2023
Start: April 15th, 2023, End: July 15th, 2023
NOTE:
DFO is requiring Electronic Monitoring (EM) systems for vessels equipped with commercial longline gear (Hydraulic Block).
DFO is enforcing the 9NM limit.
UPDATE:
1) Fishing area closures. Please review the map below. 
2) Halibut update:
– HFN fishers must contact the Fisheries Manager before hailing out.
Halibut trip limits remain as follows:
– HFN, MMFN, ECFN: 2,000lbs per trip
– AN: 300 lbs per trip – day fleet only. May not be used as halibut bycatch for multi-day groundfish
– TFN: 500lbs per trip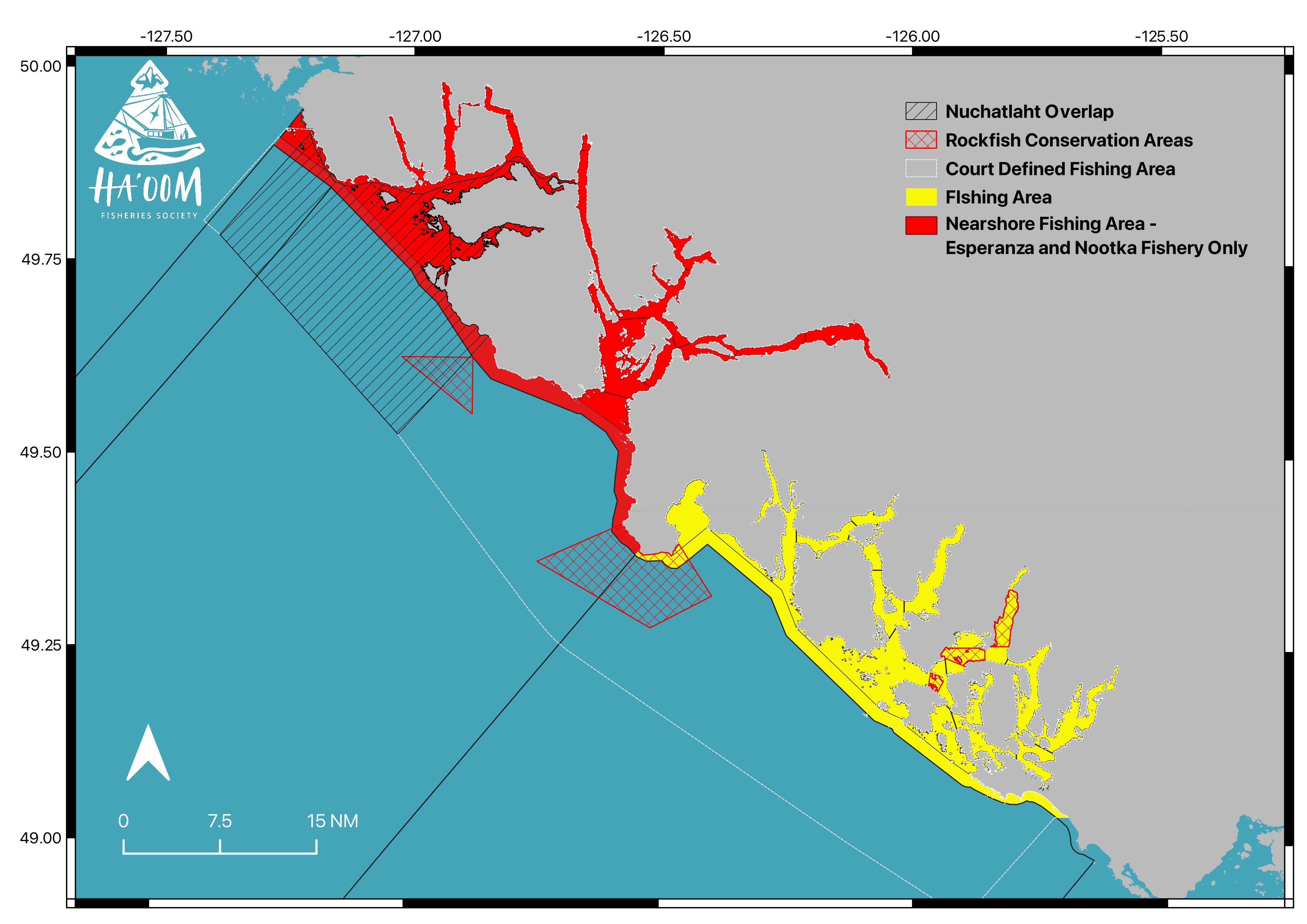 Suuhaa: Area 124, Area 125, a portion of Area 126, Areas 24, Area 25, and Area 26-1. Rockfish conservation areas are closed.
Your Fisheries Manager/Coordinator
Luke Swan (AFN)
250-670-9535 (office)
250-266-2509 (cell)
Tyler Hanson (ECFN)
250-761-4155 (office)
Jaqlynn Titian (HFN)
250-670-1122 (office)
Roger Dunlop/Colin Rossiter (MMFN)
250-283-2015 (office)
Andrew Jackson (TFN)
250-725-3350 (office)
T'aaq-wiihak Fisheries Staff
Kadin Snook (Fisheries Coordinator)
250-204-1522
Vanessa Buchanan (Fisheries Coordinator)
604-349-0494
DFO Salmon Resource Manager
Eamon Miyagi
250-286-5896
DFO Hook & Line Coordinator
Amy Greenwood
604-679-5158