Multi-Species Finfish Fishery
Multi-Species Finfish Fishery
Updated Monday, November 15th, 2021 at 6:38pm
Note – there will be NO set landing window in Tofino. Fishers are required to hail in with a minimum of 24 hours notice so that a monitor can be arranged.
FISHING AREA MAP winter fishery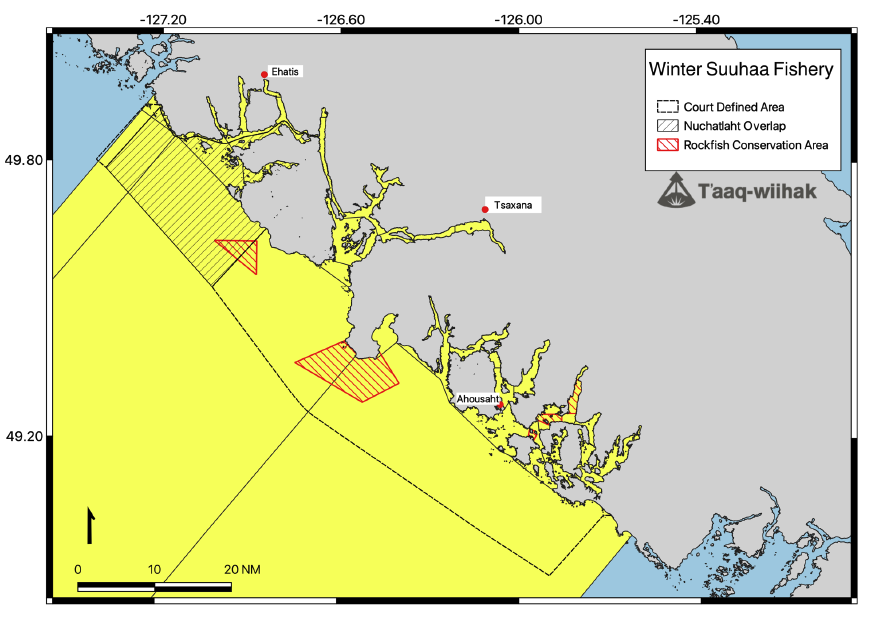 Fishers are required to retain 100% of the fish they catch (including all rockfish), with the exception that fishers can release undersized salmon, halibut, lingcod and all dogfish. Fish that cannot be sold may be taken for home use. Fishers should be aware that some buyers will observe DFO regulations.
HAIL OUT PROCEDURES
Fishers are required to HAIL OUT for each trip. Hail outs can be made up to 12 hours before leaving the dock. Landings will not be authorized if you do not hail out. HAIL OUTS can be made 24 hours/day to: 
Phone (call/text/voicemail): 250-266-0418
Online: Hail Out Here
LANDING/HAIL IN PROCEDURES
A Designated Ecotrust Monitor must be present at all landings. Ecotrust Monitor will validate your catch, collect fishing logs and provide you with a T'aaq-wiihak Landing Slip. 20% of landings will also be CWT sampled by Ecotrust Monitors in Tofino or J.O. Thomas Monitors in Zeballos. 
PLEASE NOTE: Designated monitors will only be available to validate catch Monday – Friday. 
Landings can occur only at the designated landing sites outlined below:
Tofino
4th Street Dock: HAIL IN Required – O.N.A. Day buyer available from 5-7pm (Starting Tuesday August 17,2021 – there will be NO set landing window in Tofino.)
Lions Gate Fisheries: Monday/Wednesday HAIL IN Required.
Zeballos
Mid Island Ice: Call to arrange offload times.
Gold River
Gold River Dock/Ahminaquis Boat Launch: HAIL IN Required – Buyers needs to be pre-arranged by fisher before landing.
PLEASE NOTE:
Fishers MUST HAIL IN to confirm a landing time at least 24hrs in ADVANCE to arrange for a monitor to be at the landing, please understand that we need time to arrange this. You can HAIL IN to 250-266-0418. The HAIL phone is monitored 9AM to 5PM daily
FISHING LOGS
Fishers must fill out a Fishing Log on a daily basis (one page per fishing day) recording all kept AND released fish. This fishing log must be submitted to the monitor at the time of landing.
PACKING FISH
Packing, or landing catch for another vessel, is only authorized in cases where the combined catch on board the vessel does not exceed the trip limit. If the catch does exceed the trip limit, written authorization from your fisheries manager will be required. The packer must produce a signed fishing log (completed by the fisher) for the catch.
MONITORING
100% of landings and catch must be monitored by a T'aaq-wiihak Monitor prior to sale. A T'aaq-wiihak Landing Slip is required before any fish can be sold.
Fishers must provide Ecotrust T'aaq-wiihak Monitors access to their catch for validation and CWT Sampling, in Zeballos CWT Sampling will be performed by J.O. Thomas.
All halibut being sold will be tagged with a white HA'OOM Tag prior to sale to support traceability and accountability of T'aaq-wiihak fish and to mark it as unique in the marketplace.
Home use may be offloaded prior to landing at the designated landing site if your fisheries manager verifies the catch and provides you with an offload record to be provided to the T'aaq-wiihak monitor at the time of landing.
Your Nations Guardians and DFO will be doing on water patrols.
COVID-19 LANDING PROCEDURES
Please refer to the COVID-19 notices posted at the landing sites for landing procedures.
Information on the Bligh Island Oil Spill Incident 
There is an active incident related to a historic wreck in the Zuciarte Channel near Bligh Island (PFMA 25-15) in Nootka Sound. There is a slow release of oil assumed to be Bunker C, which is more persistent than diesel as only 5-10% evaporates within the first few hours of a spill. An Incident Command Post (ICP) is in place to coordinate a response to the incident. The ICP is led by a Unified Command with a representative from the Canadian Coast Guard (CCG); BC Ministry of Environment, and the Mowachaht/Muchalaht First Nation. A Joint Information Centre has been established for regular updates and can be found at: http://www.spillresponsebc.ca/. 
Booms have been deployed and response vessels are actively working in PFMA 25-15 (https://www.pac.dfo-mpo.gc.ca/fm-gp/maps-cartes/areas-secteurs/docs/25-eng.pdf). We ask that fishers avoid the area around the spill while response operations continue. The situation may change over the coming weeks and we may provide additional information on areas to avoid or other management measures prior to the upcoming fishery opening. 
FISHER REQUIREMENTS
Fishers are required to secure their own fish ice (salted), and ensure fish are delivered dressed and properly chilled. Failure to do so may affect price received and/or ability to sell catch.
Fishers are required to adhere to the conditions and restrictions defined in the T'aaq-wiihak Requirements & Responsibilities Agreement with their Ha'wiih
Fishers are required to ensure their vessels comply with Transport Canada, CFIA and WorksafeBC regulations.
BUYERS
It is the business of each fisher who they sell to and at what price. This is not controlled by T'aaq-wiihak or your Nation. 
Your Fisheries Manager/Coordinator
AFN (Luke Swan)
250-670-9535 (office)
250-266-2509 (cell)
ECFN (Dave Miller)
778-350-0476 (office)
HFN (Jacquline Titian)
250-670-1122 (office)
MMFN (Roger Dunlop)
250-283-2015 (office)
TFN (Andrew Jackson)
250-725-3350 (office)
T'aaq-wiihak Fisheries Staff
Kadin Snook (Fisheries Coordinator)
250-204-1522
DFO Salmon Resource Manager
DFO Hook & Line Coordinator