Multi-Species Finfish Fishery
MULTI-SPECIES FINFISH FISHERY – Fisheries Notice for July 2 – 8.
Fishers can Hail-out to

ONE

fishery per trip:
Groundfish Directed:  Area 124, Area 125, and a portion of Area 126, Sub Areas 24,25, and 26-1.
In-shore Suuhaa: Inside of 1 NM from the surfline to in-shore. Areas 24, 25 and Sub-Area 26-1.
FISHING AREA MAP FOR MULTI-SPECIES FINFISH FISHERY
Please note: Lingcod catch must kept separate in you hold by area 3C and 3D, area boundaries in full fisheries notice.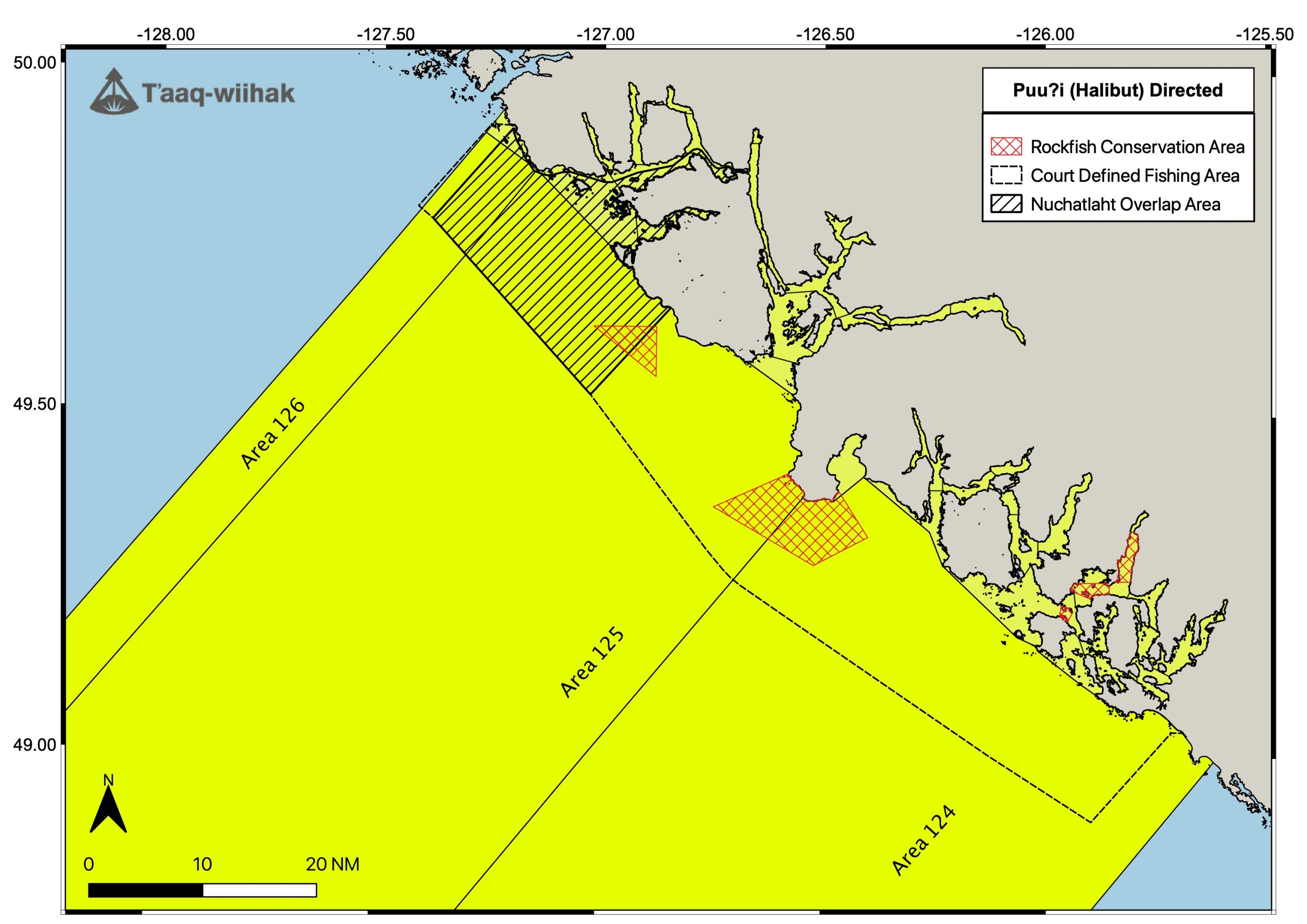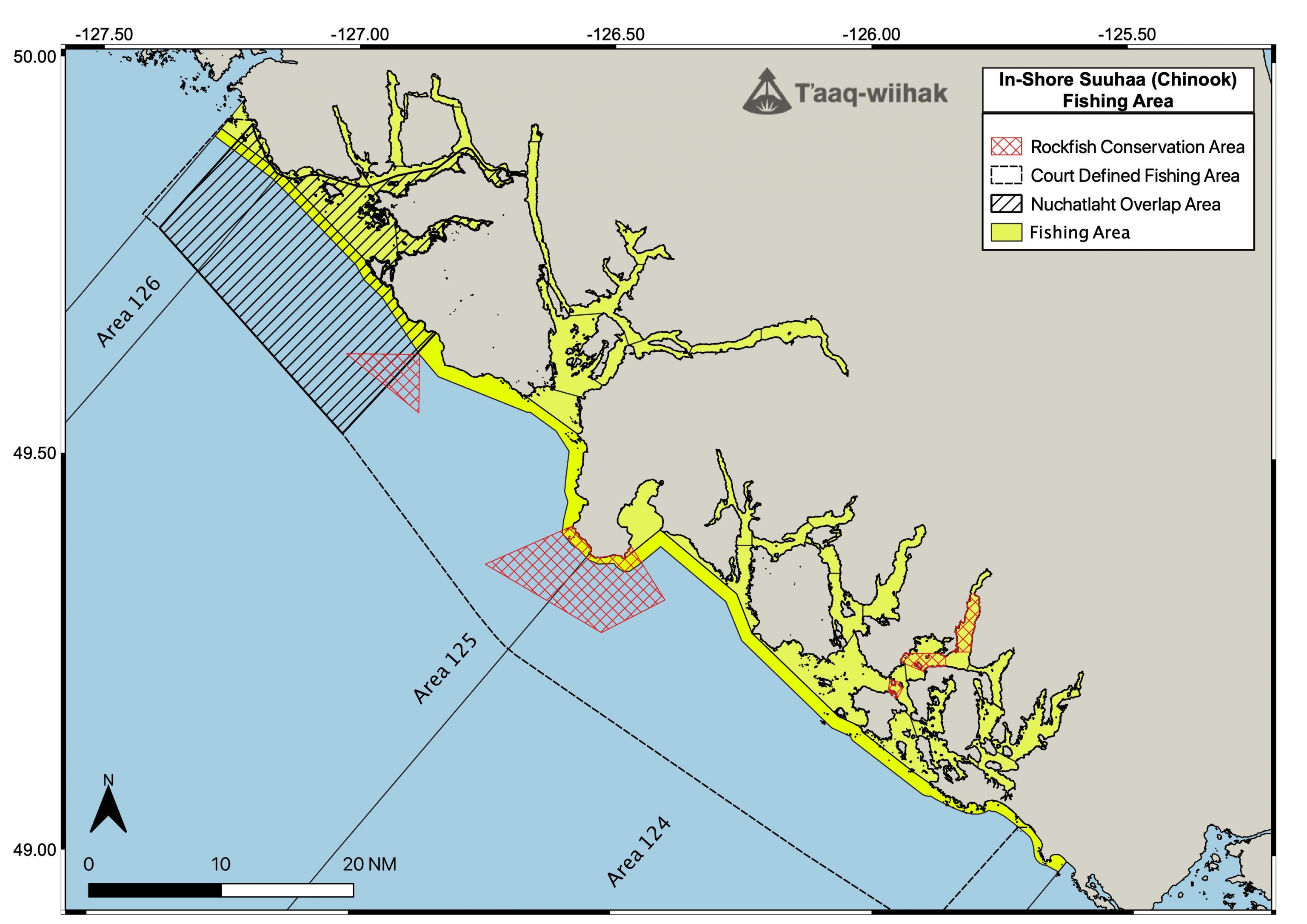 T'aaq-wiihak Fisheries Notice
For Multi-species Finfish Fishery – July 2, 2020.
The leadership of the Five Nations is authorizing a fishery to on the terms set out in this notice. It is important for fishers to be aware that DFO is imposing some licence conditions on this fishery opening that the leadership of the five Nations are not including as a requirement for the aboriginal-rights based fishery. The areas highlighted in blue in this notice indicate those licence conditions by DFO. Fishers should be aware of these conditions. Fishers who choose not to follow licence conditions imposed by DFO may face potential ramifications, including charges and prosecution from DFO, including for violations of the Fisheries Act and regulations.
OPENING TIME
Start: Thursday July 2, 2020 at 00:01, End: Until the Allocation is achieved.
FISHING AREA
Groundfish Directed: Area 124, Area 125, a portion of Area 126, Sub-Areas 24, 25, and 26-1. Rockfish conservation areas are closed. Note: DFO is enforcing the 9nm limit.
In-shore Suuhaa (Chinook Salmon): The area in-shore of 1nm in area 24, 25, and 26-1. Rockfish conservation areas are closed. There are additional closures outside of 1nm in area 125, please see map for coordinates. 
DESIGNATION
Participants must be a designated T'aaq-wiihak fisher and have a valid 2018 T'aaq-wiihak Fisheries Card, and be fishing on a registered T'aaqwiihak vessel with a valid 2019 T'aaq-wiihak decal. Participants must fly a red T'aaq-wiihak flag while on a T'aaq-wiihak fishing trip and must HAIL OUT for each trip.
GEAR
Troll (single barbless hooks), gang-troll, jig, and longline (Groundfish Directed ONLY). (NOTE- DFO is not permitting the use of longline gear). 
SPECIES ALLOWED FOR SALE (size limits & trip limits)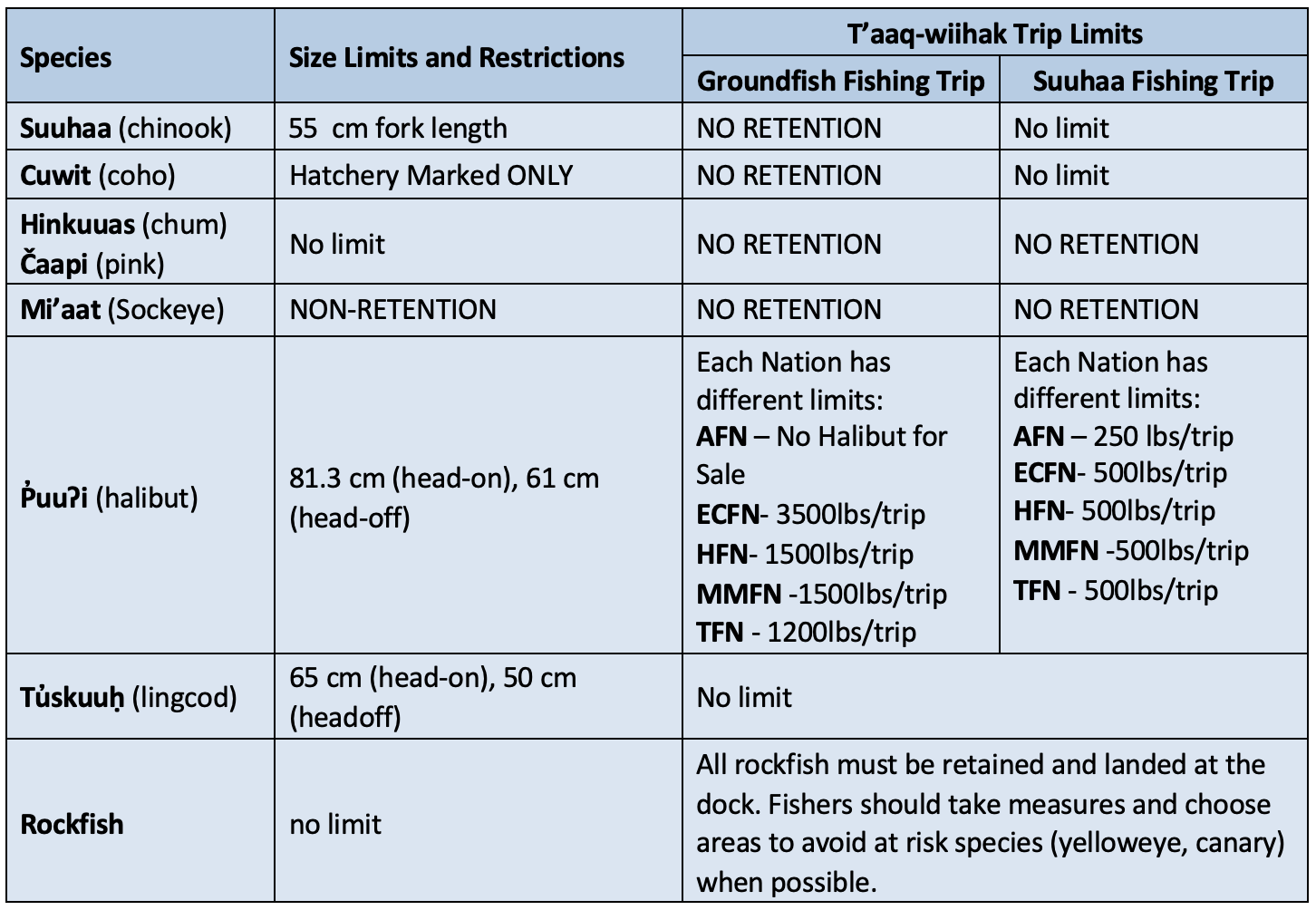 Fishers are required to retain 100% of the fish they catch (including all rockfish), with the exception that fishers can release undersized salmon, halibut, lingcod and all dogfish. Fish that cannot be sold may be taken for home use. Fishers should be aware that some buyers will observe DFO regulations.
HAIL OUT PROCEDURES
Fishers are required to HAIL OUT for each trip. Hail outs can be made up to 12 hours before leaving the dock. Landings will not be authorized if you do not hail out. HAIL OUTS can be made 24 hours/day to:
Phone (call/text/voicemail): 250-266-0418
Website: http://taaq.ca
LANDING/HAIL IN PROCEDURES
A Designated T'aaq-wiihak Ecotrust Monitor must be present at all landings.  A T'aaq-wiihak Ecotrust Monitor will validate your catch, collect fishing logs and provide you with a T'aaq-wiihak Landing Slip.  20% of landings will also be CWT sampled by T'aaq-wiihak Monitors in Tofino or J.O. Thomas Monitors in Zeballos.  Landings can occur only at the designated landing sites outlined below:
Tofino
HUB City: Monday/Wednesday HAIL IN Required.
Lions Gate Fisheries: Monday/Wednesday HAIL IN Required.
Zeballos
Mid Island Ice: Tuesday/Wednesday HAIL IN Required. As Per offload facilities' COVID-19 plan, fishers will have to offload their own catch at this site.
PLEASE NOTE:
Fishers MUST HAIL IN to confirm a landing time 24hrs in ADVANCE to arrange for a monitor to be at the landing, please understand that we need time to arrange this. You can HAIL IN to 250-266-0418. The HAIL phone is monitored from 7am – 7pm.
FISHING LOGS
Fishers must fill out a Fishing Log on a daily basis (one page per fishing day) recording all kept AND released fish. This fishing log must be submitted to the monitor at the time of landing.
PACKING FISH
Packing, or landing catch for another vessel, is only authorized in cases where the combined catch on board the vessel does not exceed the trip limit. If the catch does exceed the trip limit, written authorization from your fisheries manager will be required. The packer must produce a signed fishing log (completed by the fisher) for the catch.
MONITORING
100% of landings and catch must be monitored by a T'aaq-wiihak Monitor prior to sale. A T'aaq-wiihak Landing Slip is required before any fish can be sold.
Fishers must provide Ecotrust T'aaq-wiihak Monitors access to their catch for validation and CWT Sampling, in Zeballos CWT Sampling will be performed by J.O. Thomas.
All halibut being sold will be tagged with a white HA'OOM Tag prior to sale to support traceability and accountability of T'aaq-wiihak fish and to mark it as unique in the marketplace.
Home use may be offloaded prior to landing at the designated landing site if your fisheries manager verifies the catch and provides you with an offload record to be provided to the T'aaq-wiihak monitor at the time of landing.
Your Nations Guardians and DFO will be doing on water patrols.

NOTE- DFO is requiring that all trollers use a Vessel Monitoring System when participating in this fishery. According to DFO's requirement, trollers must have VMS installed and operating, using a service provider.

The Nations leadership is not requiring trollers to use VMS for this fishery.
COVID-19 LANDING PROCEDURES
WE ARE WORKING WITH ECOTRUST TO ENSURE EVERYONES SAFETY DURING THESE CHALLENGING TIMES. ECOTRUST CANADA HAS DEVELOPED POLICIES AND PROCEDURES TO COMPLY WITH THE GOVERNMENT'S COVID PROCEEDURES. PLEASE BE PATIENT AND LISTEN TO THE DIRECTION OF YOUR MONITORS DURING THIS TIME AND MAINTAIN AT LEAST 2M OF PHYSICAL DISTANCE AT ALL TIMES. WHILE THESE MEASURES ARE IN PLACE IT IS THE SHARED RESPONSBILITY OF ALL DURING LANDING ACTIVITIES TO ENSURE THESE MEASURES ARE FOLLOWED. NO LANDINGS WITHOUT PRIOR AUTHORIZATION WILL BE ALLOWED.
FISHER REQUIREMENTS
Fishers are required to secure their own fish ice (salted), and ensure fish are delivered dressed and properly chilled. Failure to do so may affect price received and/or ability to sell catch.
Fishers are required to adhere to the conditions and restrictions defined in the T'aaq-wiihak Requirements & Responsibilities Agreement with their Ha'wiih
Fishers are required to ensure their vessels comply with Transport Canada, CFIA and WorksafeBC regulations.
BUYERS
It is the business of each fisher who they sell to and at what price. This is not controlled by T'aaq-wiihak or your Nation. 
Your Fisheries Manager/Coordinator
AFN (Luke Swan)
250-670-9535 (office)
250-266-2509 (cell)
ECFN (Dave Millar)
250-761-4155 (office)
HFN (VACANT)
250-670-1100 (office)
MMFN (Nathan George)
250-283-2015 (office)
TFN (Andrew Jackson)
250-725-3350 (office)
T'aaq-wiihak Fisheries Staff
Kadin Snook (Fisheries Coordinator)
250-204-1522
DFO Salmon Resource Manager
DFO Hook & Line Coordinator